Voting is Health Care: The Growing Movement to Help Patients Vote
A growing segment of the United States health care sector has been working to make nonpartisan voter engagement a routine aspect of clinical care. From networks of community health centers like AltaMed Health Services to large academic medical centers like Penn Medicine to national organizations like the American Academy of Pediatrics, over 240 institutions and more than 25,000 providers have added civic health to their checklist of ways to provide holistic care. In combination, these efforts are making the ballot box an accessible pathway to address long-standing health inequity.
The COVID-19 pandemic has been a stark reminder that the social determinants of health account for up to 80% of health outcomes. These factors, including affordable housing, food security, education quality, environmental justice, and disability accommodation, are critical to promoting patient well-being and better public health. Policy decisions shape these social determinants and patient health, making it critical for policy to reflect our communities' socioeconomic needs. Gun violence and baby formula shortages highlight the ways in which policy decisions directly impact the health of our country and our children.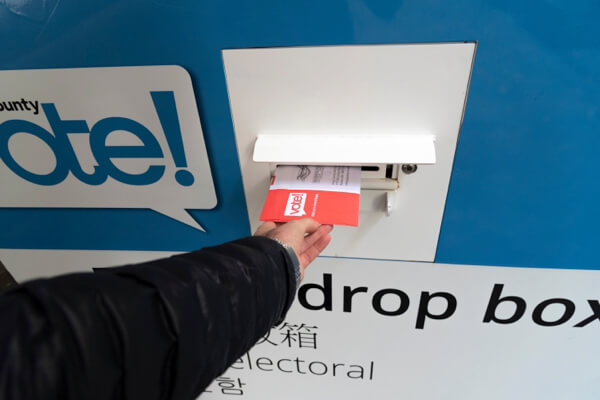 One of the most fundamental ways to ensure that policy improves health is to ensure people vote. However, barriers to voting exist for many of the same people most impacted by COVID-19, creating an uncertain path forward to self-advocacy in health care. For children, it is especially important that their needs are met by the influence of their families on those holding public office.
Fortunately, health systems are well positioned to address this inequity and uphold their mission to serve all people. The National Voter Registration Act of 1993 along with IRS guidance for nonprofits support government agencies and nonprofit organizations alike to provide nonpartisan voter registration. For two of us in our work with our patients—at AltaMed Health Services, where we serve over 300,000 patients in Los Angeles and Orange counties every year, and at Stanford Medicine in the San Francisco Bay Area—we see daily how hospitals and community health centers are cornerstones of our communities. We often serve those most marginalized by the health care system: people who are young, disabled, low-income, and people of color. Many of these patients are disengaged in our democracy not for apathy but for lack of campaign outreach and accessible voting information, or due to health barriers themselves.
We often serve those most marginalized by the health care system: people who are young, disabled, low-income, and people of color. Many of these patients are disengaged in our democracy not for apathy but for lack of campaign outreach and accessible voting information, or due to health barriers themselves.
AltaMed has acted on this potential by incorporating a 5-touch model to encourage patients, staff, community members, and other partner California community health centers to become civically engaged. In Fall 2018, the AltaMed Get Out the Vote campaign successfully contacted roughly 29,900 low-to-mid propensity Black and Latino voters. In these primarily Latino precincts, every one percent of total voters contacted by AltaMed translated into an eight percent increase in turnout between 2014 to 2018. Community health centers are viewed as trusted messengers, and organizations like AltaMed have had a unique role in increasing voter participation. During the 2022 Midterm Primary Election, AltaMed partnered with local civic engagement organizations and reached over 220,000 new and low propensity Latino voters within a five mile radius of all their clinic sites for an election that has traditionally seen historically low voter turnout.
Many individual health care providers across the country are bringing nonpartisan conversations about voting into their clinical practice. Health professionals in over 700 hospital sites and clinics nationwide are helping colleagues and patients register to vote through tools from nonprofit partners like Vot-ER. By asking patients to register to vote without influencing what or whom patients vote for, clinics and hospitals are uplifting a non-paternalistic approach to advocacy: health care workers facilitate nonpartisan voter registration for those who are eligible, and patients use their own voices to vote for leaders and policies that impact their health.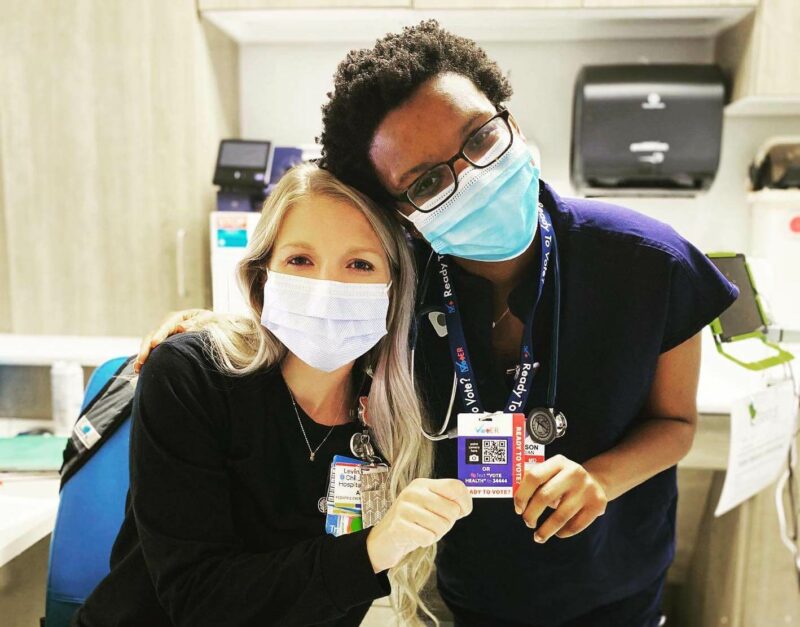 Much of the momentum for healthcare-based voter engagement was generated in response to the COVID-19 pandemic. In August 2020, the inaugural Civic Health Month was celebrated by nearly 100 partners across the health and democracy spaces, who joined together to make sure that patients could access voting resources and cast their ballots safely during the presidential election. This initiative received early support from national health associations like the American Academy of Pediatrics, which ran the Vote Kids campaign to highlight the connections between health equity and civic engagement while providing pediatricians with tools to help parents and voting-age patients register and turn out to vote. More than 80 medical schools joined together for the Healthy Democracy Campaign, with student-led efforts helping 15,692 people.
Overall in 2020, institutions and providers using Vot-ER tools helped more than 46,000 people initiate the process of registering to vote or requesting a mail-in ballot. 84% of the people who completed the registration process did so successfully, and of these individuals, 85% voted in the general election. Of those who voted after registering through Vot-ER, 39% were people of color compared to 26% of the general electorate. 56% were under 35, compared to 24% of the general electorate. These numbers speak to the success of a nationwide coalition that has come together to promote civic health, especially for populations facing barriers to democratic participation.
In August 2021, the number of partners for Civic Health Month more than doubled to 240, with a focus on uplifting the importance of local elections on community health care and resources. Now in 2022, activated by recent events that impact the health and lives of our patients, the coalition is engaging our communities once again. Adding to the momentum, the American Medical Association just passed a resolution that affirmed voting as a social determinant of health.
Regardless of the candidates or offices up for election, our health is always on the ballot. As such, from the national level to the individual health care worker, we need to continue taking action that underscores voting and health as part of the same conversation—one that encourages our colleagues and patients to advocate for themselves and to vote like our health depends on it, because it does.