10 Ways to Use Your Vot-ER Badge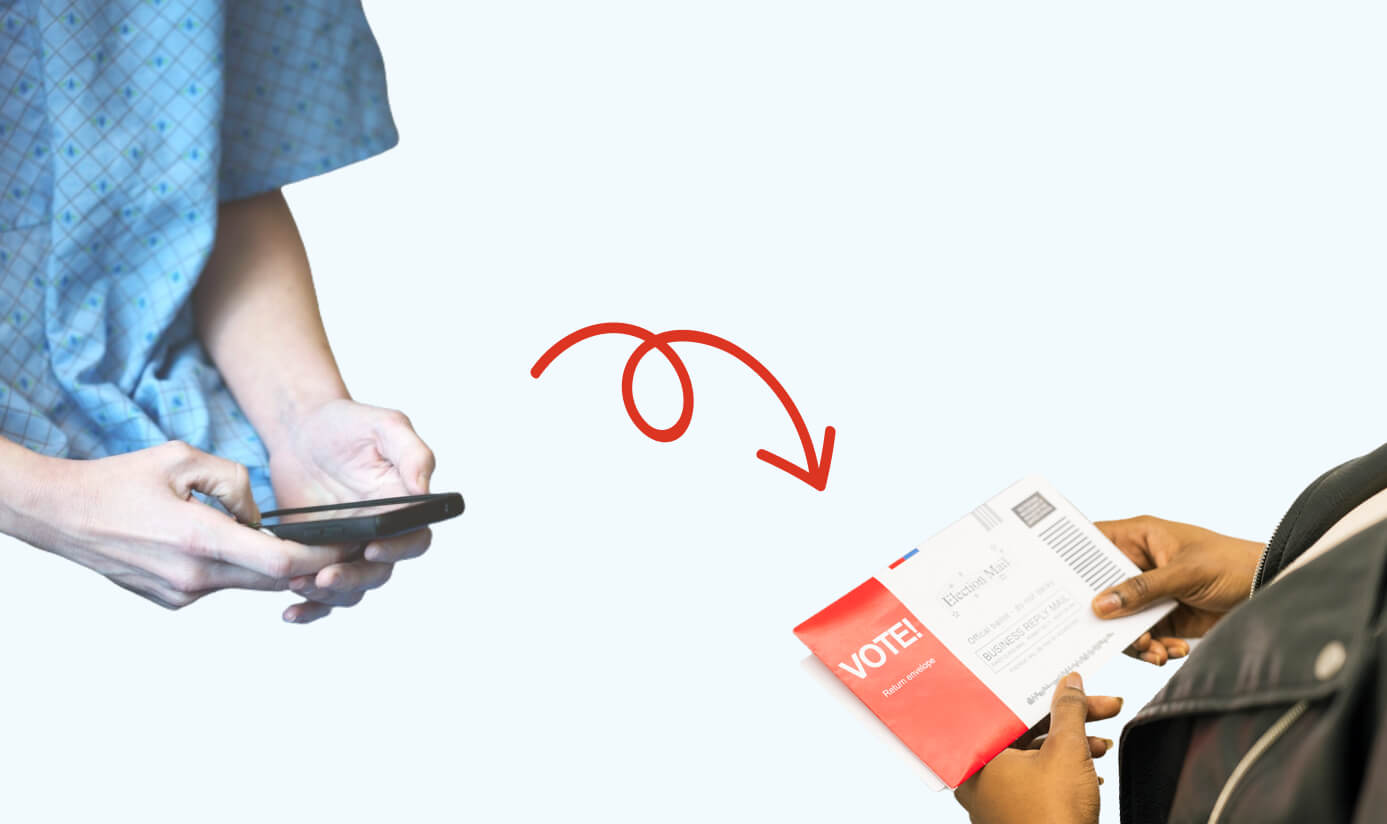 Healthcare providers across the country are helping patients use their voices to shape our democratic processes and create a fairer, more just healthcare system. While the predominant mechanism for healthcare providers to get patients, colleagues, and family members registered to vote or get them their mail-in ballots has been through the direct, in person, use of the Healthy Democracy Kit, our users have innovated several key new ways to leverage the simple technology behind the kits to get thousands of people ready to vote in November. Below are some of our favorite ways. You can also see examples of these ideas or new ones as they get added by our users on this page.
Before you begin: The first and most important step is to identify your kit's unique URL. You can do this by using your own kit and making note of the URL that the text trigger or QR code sends you to. For the vast majority of users this will be vot-er.org/votehealth. Just to be sure, go ahead and use your own kit by sending the text message or using the QR code on your badge to find out.
States Competition: Each kit has a specific state tag on it that allows us to track how many people got ready to vote because of healthcare providers in that state. When you use your badge you will be helping score another point for healthcare providers in your state. As of August 20th, healthcare providers in Pennsylvania are in first place with providers in North Carolina lagging just behind. Check the most up to date scores here. How will you use these techniques below to help your state come out on top?
Once you've identified your kit's unique URL, all of the following 10 options are immediately available to you:
1. Text Messages
Have anyone text your badge's short code. Just tell them to text 'vote health' to the number 34444. Anyone using this text will receive a link that counts toward your school or state.
2. Widely post your URL
Distribute and deploy your URL directly everywhere: This is ultimately where all of the above options lead, thus you can always distribute this and be assured your points will count for your school or state.
3. Physical Uses
You can always write or print your URL, text link, or even QR code on anything and distribute it far and wide. We've gotten you started with the linked templates, but feel free to make your own! Previous successful ideas for physical uses include:
Posters and flyers
Protest signs
Mass produce your kits! — print the digital kits PDF, get your own badge backers and lanyards, and go sign everyone up in person!
Make yard signs and put them on campus or elsewhere.
Find local existing public health opportunities (covid screenings, primary care settings, etc)!
Create your own advertisements using these VotER gear designs! Buttons, lanyards, stickers, shirts, anything, we will provide a document shortly full of templates that you can order and distribute as needed! We've found these to be great ways of gaining visibility in your networks and getting people registered.
4. Partner with local establishments.
Recruit bars, restaurants, local hotspots or public boards and add your text code or link, either handwritten or printed!
5. Instagram Bio
Change your Instagram bio link to your URL.
6. Email Signature
Change your email signature until the election: further instructions on how to do this are here.
7. Twitter Storm
Create a Twitter storm using posts featuring your URL and have everyone in your department, family, or friend group repost and tag 10 friends, or better, famous alumni, sports teams, or organizations at your hospital with requests to distribute the link to their followers and networks!
8. Social Media Posts
Make an Instagram or Facebook post (see our templates and adapt to make them school/hospital specific!).
9. Airdrop
AirDrop your registration link at community events, covid testing sites, or anywhere (feel free to screenshot our templates for ease of use)!
10. Text Bank
Plan a text bank, the MOST effective mechanism of voter registration. Here are easy instructions!
Good luck and thank you for doing the vital work to improve the health of our democracy!
Full recordings of Alister's past Healthy Democracy Kit webinars can be found here.