Posters & Handouts
Offer civic engagement opportunities in your clinic or hospital with Vot-ER posters and handouts!
Thank you for your interest in ordering Vot-ER posters and handouts! Vot-ER creates and ships up to 8 posters in English and/or Spanish at no cost to you. All you need is a plan for using them.
Order
Printing By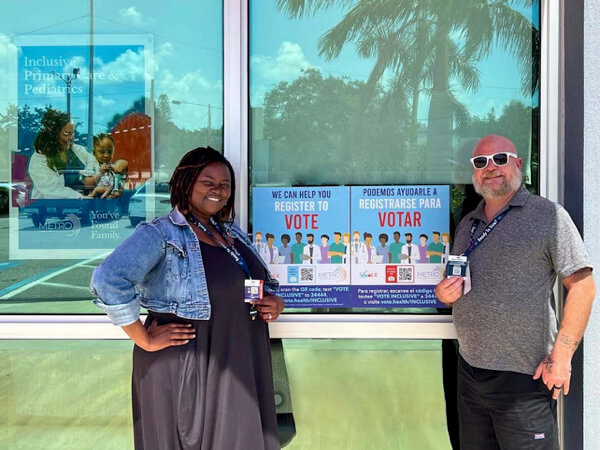 Photo: Metro Inclusive Health

FAQs
What is the institution code used for?
We track how many people scan your badge and "click" to start the voter registration or mail-in ballot request process. You can view these numbers in real time by entering your institution's code at vot-er.org/impact.
After the election, we'll be able to provide more detailed information about whether each voter completed the process through Vot-ER, but we cannot track that in real time.
Can I get badges to distribute to other people?
My institution has concerns that non-US citizens will be turned away by the stigma of voter registration at the hospital.
We understand how important it is to address the barriers that many immigrants face when seeking care. Vot-ER tools and programs can be implemented in a thoughtful way that doesn't exclude non-citizens. Instead of asking all patients to register to vote, create non-intrusive opportunities for eligible patients to connect with our voter registration platform by placing Vot-ER posters, handouts, and badges in select areas. Ultimately, we leave it up to each site to weigh the risks and benefits of promoting voter registration.
I'm worried that this type of outreach will interfere with care.
Vot-ER helps clinics implement civic engagement while ensuring an uninterrupted care experience for patients and staff.
All of Vot-ER 's tools and programs are designed to work independently of healthcare staff involvement, and voter registration is done exclusively through patients' personal devices. A voter text hotline is available to patients 24/7.
More than 130 healthcare sites and thousands of health care professionals across the country use Vot- ER in their daily practice. If you're concerned about the impact of civic engagement on your clinic's operations, please reach out. We want to work with you to address your concerns.
Where are Vot-ER tools currently used?
Vot-ER tools are used at hundreds of healthcare sites, ranging from large academic medical centers like Massachusetts General Hospital and UPenn, to community hospitals like Tuscon Medical Center and primary care clinics like First Choice Primary Care. You can view an updated list of participating sites at vot-er.org/map.
Is it legal to conduct voter registration activities in hospitals and other healthcare settings?
Yes, it's legal for hospitals and other healthcare facilities to conduct nonpartisan voter registration and education activity.
The IRS explicitly states that "501(c)(3) organizations may conduct voter engagement", and the Health Resources & Services Administration has affirmed that community health centers can run "non-partisan voter registration efforts as a means of reducing barriers to civic engagement within the communities they serve."