HDC Resources
Where do I even Start?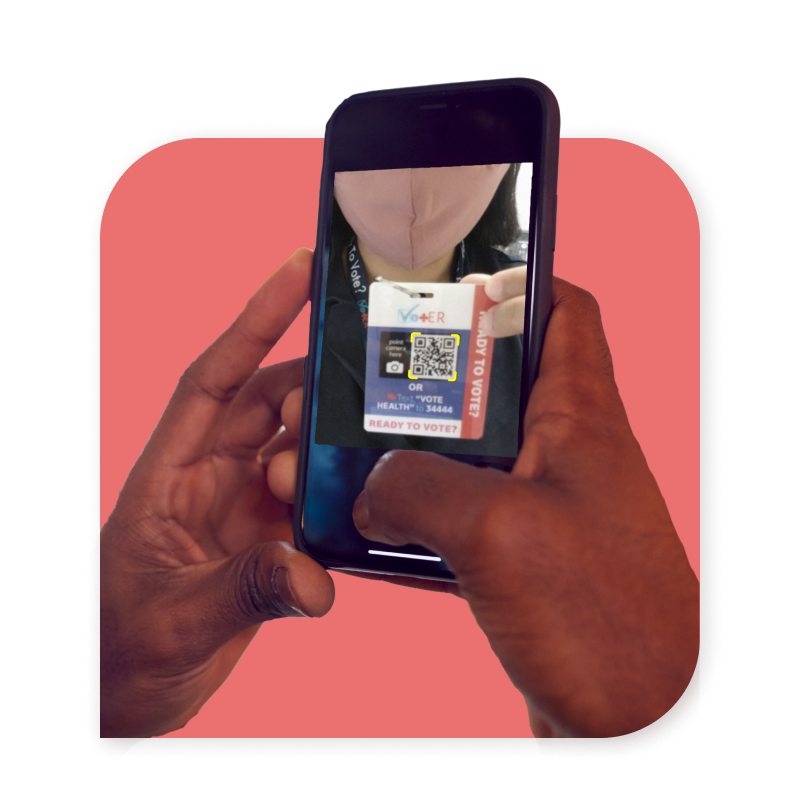 HDC Captains Start Here!
Distribute your bulk badges to your classmates during your classes together, orientation sessions, or other group settings.
Host a voter registration drive/tabling event on your campus or in the lobby of your clinical buildings on or before voter registration day
More Information
Ways to Get out the Vote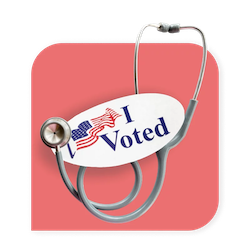 How to Start a Text Bank
Text banking can be one of the easiest and most effective ways to get people registered.
Steps:
Plan a day to meet up for a Zoom or socially distant outdoor one hour text bank (involve music, food, drinks, as needed).
Send a Calendar invite to everyone who agrees. Do this SO ITS ON THEIR CALENDAR. Make them opt-out of participating.
Copy the Google Sheet template and use the tabs for each member of the team to fill in their target registrants (friends, family, colleagues, neighbors, exes, randoms, it's all fair game).
Have one dedicated script everyone uses to text (example is in template), but adaptable to person's style.
Text bank ends once every team member has received 10 replies (or set your own bar!).

This includes social media DMs!
"Voter registration deadline is right around the corner! I'm doing my part to text folks to register to vote or check their voter registration today. If you need to register to vote or are not sure, use this link to check or pass it on to one other person [INSERT YOUR VOTE CODE LINK HERE]"
How to Plan your First Voter Registration Drive
Identify a location convenient for your team that you believe will help you to reach the most potential new voters
Make sure to consider having adjacent parking, bathrooms, and refreshments for your team
Locations to consider include the following:

Lobby outside of a hospital
Courthouses
Farmers Markets
Coordinated protests
Transit hubs
Schools
Naturalization ceremonies
Community/sporting events
Anywhere frequented by recent movers (think hardware, furniture, and moving/storage facilities)
Make sure your entire volunteer force is familiar with the federal, state and local laws that govern voter registration in your community.
For more information, contact your local elections official or check out the Fair Elections Legal Network's state-specific resources here.
Important Note **Remember to remain non-partisan; you cannot use Vot-ER tools for any political campaign, candidate, or party**
Identify key team members who will help you succeed in your efforts during the drive.
Consider using name-tags for easy identification of teammates to potential registrants.
Consider utilizing teams of 2-4 to increase the number of target spots!
As health professional students, trainees, and members of the healthcare workforce, you should lean into your power and consider wearing your white coats or scrubs to identify yourself to members of your community.

Description for this block. Use this space for describing your block. Any text will do. Description for this block. You can use this space for describing your block.
Set a specific time-frame you hope to successfully hold the drive; make sure to select a date and time where you and your teammate(s) can spend 2-3 hours total.
Voter registration is often easiest and most effective on weekdays (Monday-Thursday) during the morning and afternoon; consider scheduling your drive during these times.
Identify a target number of new registrants you hope to reach during your event.
Create posters to advertise your event to let people know in advance and call for volunteers.
Use social media to advertise the event and call for volunteers.
Don't forget to create clear signage and posters to direct potential new voters to your event.
After your event, publish the results and thank the volunteers! Don't forget to take a group selfie with your teammates and post it on social media (make sure to tag @vot_ER_org).
Consider coordinating your efforts with other organizations planning voter registration drives as well as those who will best help you reach your target audience. Examples of partners include:

School groups/PTAs
Other student groups/government
Groups that work with communities of color and new citizens
Direct service providers (WIC, community health center, etc.)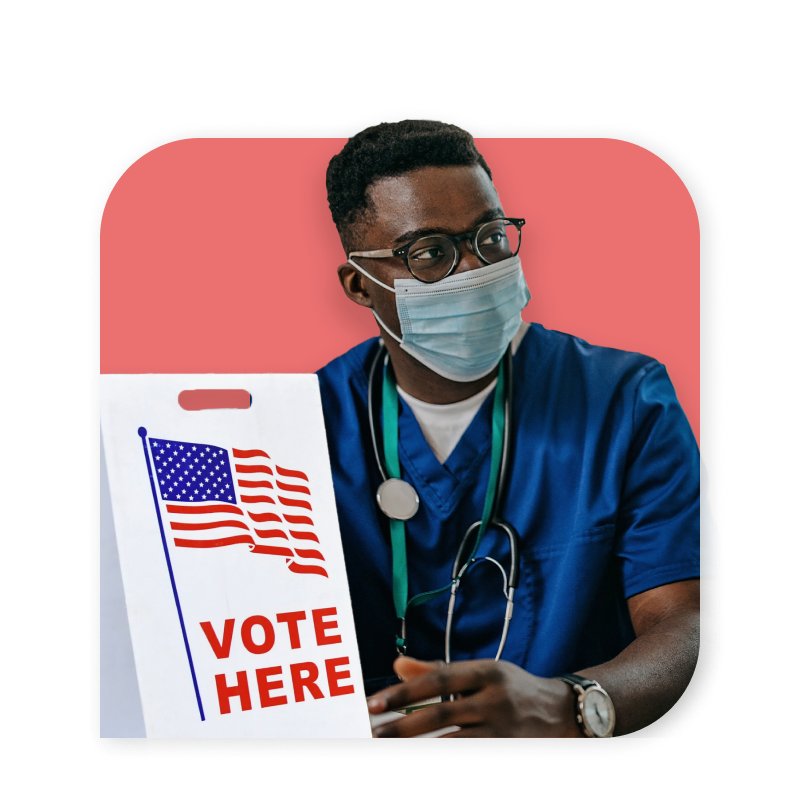 Conversation Starters
Ways to initiate Discussion with Patients...
The Improve Our Health System Approach:
Health is shaped by so many things outside of this office, like our access to clean air and healthy food. I want to make sure that your voice is heard when leaders are making decisions about these kinds of things. One of the main ways that I can do that is ensuring that you're registered to vote. Would you like to register to vote today?
The "I'm on the way out but just want to bring this up before I leave" approach
I want you to be able to vote in the upcoming election in a safe and healthy way. You can use your phone right now to check your voter registration and request your ballot to vote from home. I've got to run, but all you have to do is point your camera at this QR code, or you can text this number. The platform will walk you through all the steps.
The direct approach
Are you registered to vote?
The direct approach (mail-in ballot version)
Have you requested your mail-in ballot for the upcoming election?
Ways to initiate discussions with colleagues, others…
The direct approach
I am reaching out to friends, classmates, and other colleagues to see if they are registered to vote and if they need help registering. Are you registered to vote?
Approaching Fellow Students/Trainees
I am working with an organization that is trying to make voter registration a part of the healthcare delivery system. Students at school, as well as patients and staff at the hospital/clinic, can scan this QR code on my badge to check their voter registration. Would you like to scan the QR code and check your voter registration status?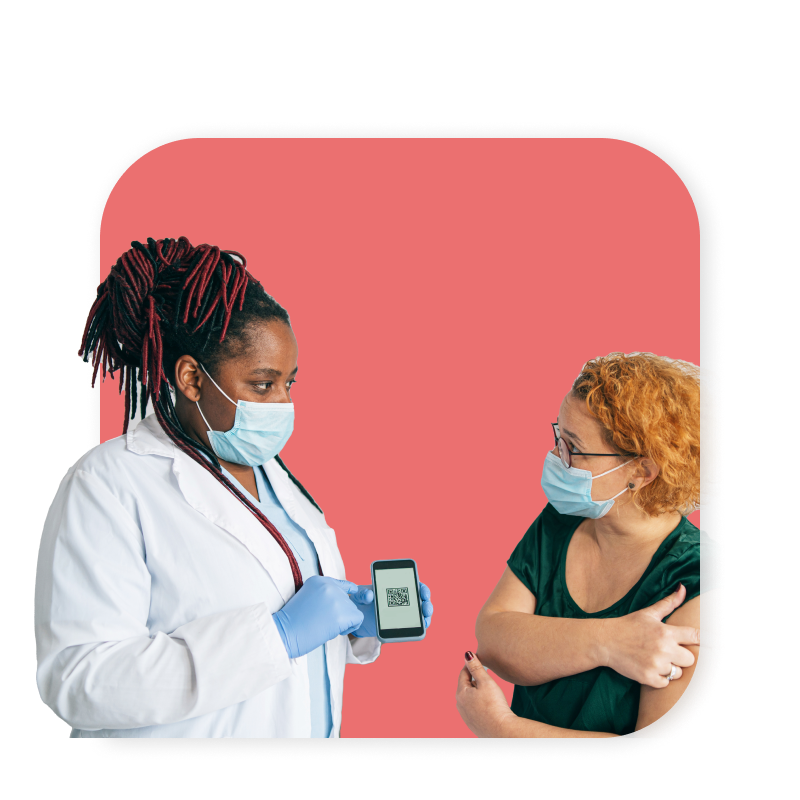 Frequently asked Questions by Patients
Note: While you may occasionally encounter a particularly hesitant or argumentative patient, that's okay! Some might not be in the right headspace, some may be uninterested. However, we know that being asked to register to vote, and being asked multiple times, through multiple channels, is a powerful way to encourage civic engagement in Americans.
Even if your patients don't register to vote today, they may be more willing the next time they're asked, or you may have planted the seeds for their own self-guided engagement later on.
Your Response: The Vot-ER platform will walk you through exactly how to check your registration. Scan this QR code or text this code to this number and the website will help you to check your registration and update it if need be.
Your Response: Often when we talk about voting, we all focus on national elections. Even in those, each vote matters; some presidential races are won by around 500 votes. More importantly, in local and state elections your voice really matters. These candidates went into public office to support their communities. They want to hear from you about what needs to change. Voting is a great first step in telling them what is working and what's not.
Your Response: This will not affect your care at all. Whether you register to vote or choose not to, I will continue to provide you the highest quality of care. I see voting as one way that you can let our leaders know what is not working for you and I wanted to give you the opportunity to have your voice heard. If you decide not to register to vote, that is fine by me, but I want to provide you the option.
Your Response: You can go to the website here (showing QR code or text code). They will ask if you would like to receive text or email updates about upcoming elections. Depending on your preference, they will then be able to text or email you the application for a mail in ballot.
Your Response: No, the decision to register to vote is completely yours to make, and once you follow the link, you'll be sent to a secure voter registration platform. Neither myself nor my clinic will have the ability to track whether you registered, or who you vote for.
Your Response: I understand that registering, voting, and keeping up to date with election dates has been really confusing in the past. Also, it doesn't always feel that our vote makes any difference. Luckily, this website walks you through all the steps of registration up until casting your ballot. If you are interested, I want to make sure that you have every opportunity to have your vote heard, whether in your local community or on the national stage.
Ways Teams Can Institutionalize
10 Things You Can Do Now
Secure Funding from Student Activity
Fund/Student Council Appropriations
Have Dean or Hospital Administrator
sign an "Endorsement Letter"

Top 10 Ways to Use Your Digital Badges NOW