ANA x Vot-ER: Get your Free Vot-ER Badge
Join thousands of healthcare professionals who are making an impact with this nonpartisan tool!
The Vot-ER badge features a QR code that connects patients to a nonpartisan online platform where they can register to vote or request a mail-in ballot. Thousands of nurses, physicians, social workers, PAs, clinical students, and health professionals use the Vot-ER badge. Together, we're building a healthier democracy.

Get a free badge
FAQs
What if patients have questions about voter registration that I cannot answer?
We partnered with VoteRiders to create a patient helpline with a chatbot and live person available 24/7 in English and Spanish.
My institution has concerns that non-US citizens will be turned away by the stigma of voter registration at the hospital.
We understand how important it is to address the barriers that many immigrants face when seeking care. Vot-ER tools and programs can be implemented in a thoughtful way that doesn't exclude non-citizens. Instead of asking all patients to register to vote, create non-intrusive opportunities for eligible patients to connect with our voter registration platform by placing Vot-ER posters, handouts, and badges in select areas. Ultimately, we leave it up to each site to weigh the risks and benefits of promoting voter registration.
How can I get started while I wait for my Vot-ER badge to arrive?
My institution said we need permission before we can use Vot-ER tools. Is there legal documentation I can share?
Yes, please download and share our fact sheet.
Be sure to emphasize that Vot-ER 's tools are nonpartisan, non-intrusive, and completely voluntary. Patients decide for themselves if they want to use Vot-ER's platform, and can only access the platform using their own phones.
My institution has concerns that noncitizens will register to vote using Vot-ER.
Both online voter registrations platforms and offline voter registration paperwork provide clear information about who is eleigible to vote, and require the registrant to affirm that they are a U.S. citizen.
Is it legal to conduct voter registration activities in hospitals and other healthcare settings?
Yes. The IRS explicitly states that "501(c)(3) organizations may conduct voter engagement", and the Health Resources & Services Administration has affirmed that community health centers can run "non-partisan voter registration efforts as a means of reducing barriers to civic engagement within the communities they serve."
How do I bring up voter registration to my patient?
Encourage your patients to vote by sharing nonpartisan, personal examples, such as "I vote because I care about the world I am leaving for my children," rather than talking about specific candidates or parties.
For more guidance on how to start the conversation, check out our voter scripts.
Do I have to get approval before wearing a Vot-ER badge and helping patients register to vote?
The vast majority of health care workers do not need to get approval. As a healthcare professional, you're free to place any information on your ID badge that is helpful to you and your patients. The important thing to remember is that patients choose whether to use Vot-ER's registration platform and when they do so, they share information on their own phones. In short, you are offering patients an opportunity to access voter information—you're not conducting the registration yourself.
Patients choose whether to use Vot-ER's platform, and when they do so, they share information on their own phones. Thus, voter information is not subject to HIPAA regulations.
In the event that you help a patient enter their information on the voter registration platform, do not use patient data from their medical record. Only use information you received directly from the patient.
How it Works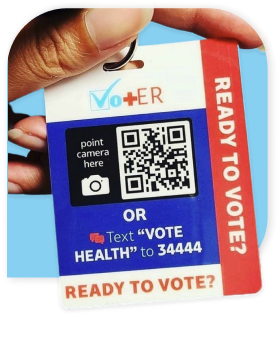 Order your free Vot-ER badge! You'll receive a package in the mail with a lanyard, Vot-ER badge, and user guide.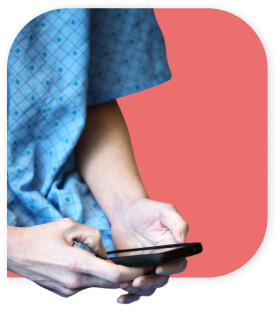 When someone scans the QR code on your badge, they'll be connected to an online platform where they can register to vote or request a mail-in ballot.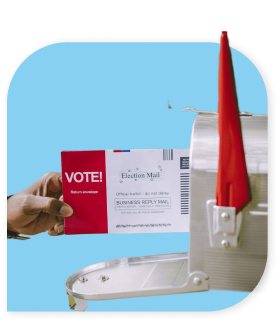 Our platform guides voters through the rest of process—it's that easy! You can also visit our
resources page
for conversation starters, FAQs, training videos, and more.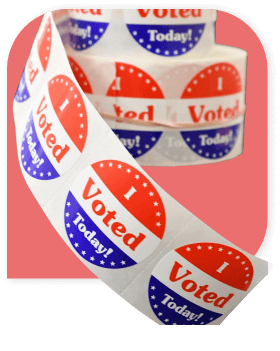 The QR code on your badge is unique to you; once you start engaging voters, you can log in to our dashboard to
see your impact!